American Paint Horse – Breed of "Colorful" Western Horses
Breed description: The American Paint Horse
Actually, the Paint Horse is nothing but a dappled Quarter Horse! It doesn't seem plausible that these dappled horses became so completely separated from the Quarter Horse breed. As a matter of fact the dappled horses were there right from the very beginning when America was conquered and colonized. Historical illustrations clearly indicate that two of the 16 horses shipped to America by the conqueror Hernán Cortés in 1519 were dappled horses!
The Paint Horse is a dappled Quarter Horse
Amongst the Thoroughbreds, from which the Quarter Horse arose in part, there were some sires with dapples. The Thoroughbred Janus, who was imported from England in 1752 and who is considered one of the founding stallions of the Quarter Horse breed sired two colored sons with solid-colored mares. For this reason it is plausible that to this day solid-color Quarter-Horse parents can sometimes produce colored foals.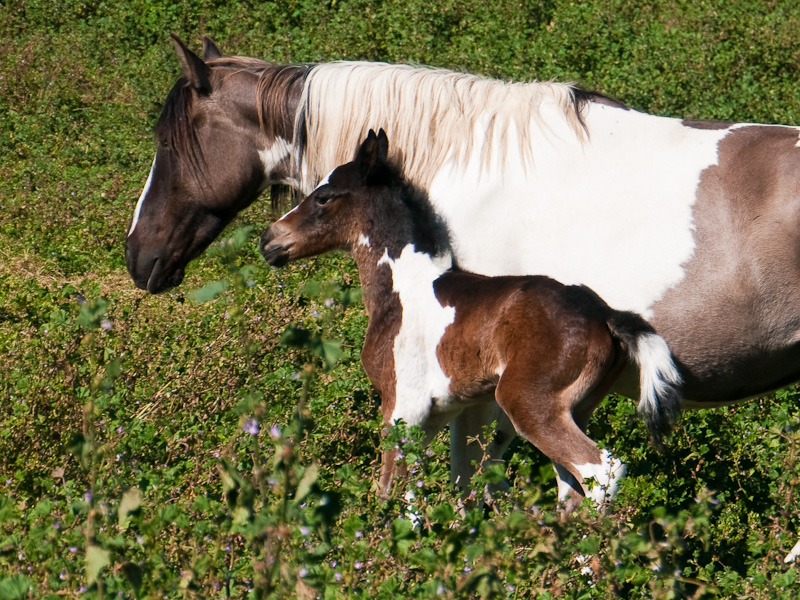 Although the Paint Horse has its origins with the American Quarter Horse it was excluded from the American Quarter Horse Association when it was founded.
When breed specifications for the American Quarter Horse were worked out, every colored offspring fell through the "grid". Dappled horses were not wanted. Perhaps the image of the Indian or circus horse had been associated with the dappled for too long. Who knows….
APHA – American Paint Horse Association
If a colored foal was born to Quarter Horse parents it couldn't be registered in any stud book. Many owners and friends of colored horses found this unacceptable and out of sheer necessity started their own association. In 1961 Paint Horse breeders in Texas established the American Paint Quarter Horse Association and one year later, also in Texas, the American Paint Stock Horse Association. In 1965 these two associations consolidated to form the American Paint Horse Association (APHA).
Today the APHA is the third largest horse breed association – after Quarter Horse and Thoroughbred associations. Horses can be registered only if they are stock-type conforming, go back to registered Paint Horses, Quarter Horses, or Thoroughbreds, and carry a minimum of white hair on pink skin.
Solid Paint-Bred – the Paint Horse without color
To complicate matters, there are some special cases:
Not only is it possible for Quarter parents to have colored offspring but it is also possible for Paint parents to have solid color offspring. These are called Solid Paint-Bred horses (formerly referred to as Breeding Stock).
On the other hand, this doesn't mean that it could now, because of its parentage, be registered at the American Quarter Horse Association. Not permitted!
The Solid Paint-Bred Horse remains registered in the Paint Horse Association. On its registration papers it gets marked as a "Solid Paint Bred" which means it may compete only in specially designated shows.
Paint Horse as Tobiano  – Overo  – Tovero
Three different pattern can be distinguished in the Paint breed:
Tobiana – white legs, white across the top line, head markings are those of a solid-colored horse, spots are regular with oval or round patterns.
1. Sorrel Tobiano: Chestnut with Tobiana markings
2. Bay Tobiano: Bay with Tobiana markings/tri-color
3. Black Tobiano: Black with Tobiana markings
Overo – white doesn't cross the top line, white seems to spread from the belly area. Lots of white on the face and accordingly blue eyes, frequently dark legs. Variations: Frame Overo, Splashed White Overo and Sabino Overo.
1. Sorrel Overo: Chestnut with Overo markings
2. Bay Overo: Bay with Overo markings/tri-color
3. Black Overo: Black with Overo markings
Tovero – The Tovero is a mixture of both coat patterns
Paint Horses shouldn't be confused with Pintos
Paint Horses should not be confused with Pintos. The latter don't constitute a breed, instead they can be of any breed, pure or crossbreed.
More Information
A Paint Horse can be recognized by its:
small, tapered head
alert eyes
wide forehead
small flexible ears
small, compact mouth
strong chewing muscles
well defined withers
very muscular hind quarters
wiry strong feet
compact hooves
medium height
Although the Paint Horse reaches just 14.5 to 16 hands on average, it can carry a heavy adult with a heavy western saddle on any terrain. They are bred as compact horse intentionally, as larger horses often lack the typical agility of this breed.
Paint Horses have a pleasant personality.
Due to their pleasant personality they can usually be raised, broken in, and trained without any problem. They can be kept in rugged conditions and stay on pasture with open stable year-round.
Due to their versatility they can be found at short-distance races (quart mile races), ranch work, and western riding competitions such as reining, western pleasure, cutting, working cow horse, barrel racing etc. Of course they are also ridden by non-competitive recreational riders.
Just as the Quarter Horse the Paint Horse is valued for its great agility, levelheadedness, its honest and good-natured character and its natural cow sense.
In conclusion: In deciding on a Quarter Horse versus a Paint Horse it's all a matter of color. You should always keep in mind that a "good horse has no color" – color should play a secondary role. Of foremost importance should always be the rideablity and trainability of the horse!
Surf-Tip:
—All statements without guarantee—