Have fun on April 15 – 17, 2011! – Saddle Valley's Spring ride in Tennessee
Saddle Valley Campground in Tennessee
Our spring ride will be a 3 day event this year, we will ride out of Saddle Valley, head south, cross North White Oak Creek, and check out the beauty of Big South Fork's southern half.
We will make camp, and have a good meal from Teresa's kitchen on the trail. This will be an overnight, no pack-pack trip. We will load everyone's gear in the trailer, and haul it all to camp, so it's there waiting on you when you ride into camp
>>>Horseback Riding Vacations in Tennessee
What you need: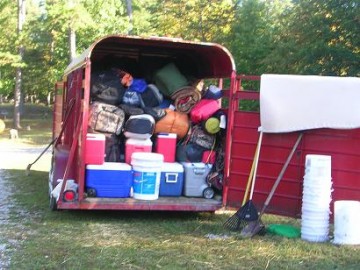 Riders should bring a small tent, sleeping bag, duffle bag, feed for your horse for 2 full days. We also allow you to bring a small cooler, we are limiting the size to 20″ X 12″ X 20″, it's only a couple of nights, and we can make sure there is ice, and you can bring extra personal beverages.
Saddle Valley will provide soft drinks, and water, also tea, coffee, juice and milk, we do not provide or sell alcoholic beverages.
Explore sites like Needles Eye, Hole in the Ridge and more…
Saturday morning we'll ride out and explore sites like Needles Eye, aka, Hole in the Ridge, Jake's Hole Overlook, and several others, Double Arches, and many other natural wonders that abound in the Big South Fork Area.
We will ride back to the same camp for evening meal and a night around the fire. Next morning we'll wake to hot breakfast and coffee, break camp, and head back toward Saddle Valley.
We'll have a pretty easy pace, and will not be in a hurry to reach a far location, we're going to enjoy the ride, and take in the sites, the nights will be filled with friendship, and good talk around the fire.
Saddle Valley will provide you with a campsite for your rig Thursday, Friday, and Saturday. We will provide lunch Friday, Saturday, and Sunday, breakfast on Saturday and Sunday, and supper on Friday and Saturday night, with a pot luck supper Sunday after we get back for anyone who wants to stay to eat.
Rates:
$175.00 for single
$300.00 for couple
We're waiting on you! Saddle up!!
For More Information:
Email Ed: ed@saddlevalleycampground.com
Call Teresa: USA (931)879-6262
Internet: www.saddlevalleycampground.com
Saddle Valley Campground
350 Dewey Burks Rd
Jamestown TN 38556
—All statements without guarantee—