Breed profile: Icelandic Horses – Islanders with a four-beat gait
The thick, tousled mane and friendly expression of the icelandic horse doesn't just thrill the heart of children.
These rugged little horses, which, strictly speaking, should be classified as ponies due to their size find enthusiasts in all age groups. What makes these four-legged islanders unique is their predisposition to a fourth and even fifth gait: the tölt and the pace.
History of the Icelandic horse
Icelandic horses are probably the only breed that have stayed pure for more than 1000 years. Almost! The Vikings most likely brought them to the island. As early as 930 A.C. the Icelandic parliament apparently passed a law prohibiting the import of horses to preserve the purity of the breed. However, the import prohibition of horses was certified only in 1909. Before that, mostly fjord horses, generally geldings, had been imported as work horses and a few purebreds might have had an influence according to some historical texts.
Today, only pure bred horses are recognized as Icelandic horses; their ancestors had to be born in Iceland without exception. The island's harsh climate has shaped this breed. Icelandic horses are small, strong, robust, and versatile animals. Despite their short height of 1.30 m to 1.40 m they can carry loads and adults can ride them.
Children in particular like their great color variations. Icelandic horses have all kinds of color variations except Appaloosa markings, about 400 different color and marking combinations in all are known.
For the most part you will come across the Icelandic horse at children's riding stables or the well known SAGA Riding Schools. They are calm and even-tempered, yet bold and eager to move. They are equally well suited for children and adults and can be leisure or performance horses.
Tölt – The fourth gait of the Icelanders
With their predisposition to that gait they often undergo extensive training and evaluation in consequent competitions. Therefore, it is essential for riding stables with Icelandic horses to have an oval track.
The tölt is a distinct four-beat gait without suspension and a constant rhythm.
On hard ground it sounds something like "black-and-decker-black-and-decker". This fast gait without suspension phase doesn't lift the rider out of the saddle as in the trot but keeps him seated softly.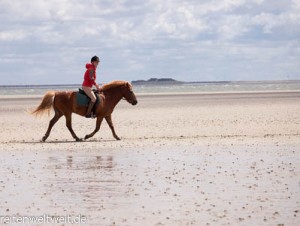 However, you have to ask for the tölt and therefore a certain skill level is required by the rider. In addition, when riding an Icelandic horse you must pay attention to keep the different gaits separated. Otherwise you could easily end up with hybrid gaits which are undesirable.
The fifth gait of the Icelandic horse is the flying pace. Both feet on the same side alternate in making ground contact. At a slow pace this can quickly lead to stiffening and tension in the horse or shows evidence of bad training in young horses, however, in an Icelandic horse this fast pace is definitely desirable.
The flying pace is a very tiring gait and is only used for short distances. To delineate it clearly from other gaits you should only work on the flying pace with the help of an experienced trainer.
Breeding and training of Icelandic horses
Icelandic horses are late developers and fully grown only at about 7 years of age. This has to be taken into consideration when training the horse to assure its long-term health. Icelandic horses are usually started under saddle only when they are four or five years old.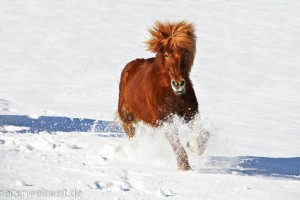 These horses hold their heads high, in particular when they are moving in their special gaits. All the more a reason to give these animals sound training and gymnastic exercises. Only a solidly strengthened back can later hold a rider's weight in a tölt without causing damage.
There are different Icelandic horse types even in this breed. At present the classical rugged little horse with pony dimensions is not high on the list of breeding goals. Favored are elegant, muscular, and versatile riding horses with an expressive head. However, even in breeding these horses there are different approaches and developments at work.
Clearly we speak only of the one Icelandic horse. As just one single horse breed existed on the island there was no need to differentiate, and only the one word "hestur" exists for "horse" in Icelandic. In the 1980s the name Icelandic horse became established in the German speaking countries.
Holidays with Icelandic horses
Those who would like to experience Icelandic horses firsthand find various opportunities to do so, one of which at the SAGA Riding Schools in Germany. The Icelanders in this franchise are kept species appropriate in rugged conditions. In addition comprehensive training programs are offered for beginners and advanced riders.
There are other riding stables that also offer holidays with Icelandic horses. A one of a kind riding vacation would surely be a stay on Iceland itself. Discovering the island's pristine landscape while riding the tölt will surely ignite fascination with the Icelandic horse.
You can find various holiday offers on the subject (both in Germany and on Iceland) at www.riding-vacations.info
Horseback Riding in Danmark on Icelandic Horses

—All statements without guarantee—