Caucasus Trekking Company – Horse Trekking in the Great Caucasus, Georgia, Republic Transcaucasia!
Introduction of CAUCASUS-TREK.com
Gia Bakuridze and I, Audrey Bogini, founded the Caucasus Trekking Company in Georgia in 2006.
In summer times (June to September) we lead treks through the Caucasian Mountains what means through the region of Tusheti and Kakheti. While I am French, my partner Gia originates from this region so that she knows it by heart.
Horse Trekking in the Caucasus
We own 20 horses that all come from this region and are used to the conditions and the climate of the region. They are very powerfull but are also characterised through calmness and dependability.
The Tusheti Region is very special and differs from other places so that you do not have any possibility to pass it by car. Due to this we are self sufficient during the whole trek and carry all needed food and luggage with us. This is the reason why we can only welcome 8 Persons per Trek.
Our main interest is to show the Tush way of life. According to this we meet shepherds and our guests have the possibility to help them producing original Tush products (p.e. held the shepherd to milk the sheep). We meet Gias father who owns 850 sheep – really impressive! Gias Tush familiy is quite traditional and still follows the old pagan conventions.
We speak German, French, English, Russian and Georgian so that we always try to support the communication between the visitors and the Tush. The Trek offers the possibility to learn more about and participate at the tush life.
Church and Religion
The Tush still follow their old pagan rituals. In summer there are plenty of celebrated holidays (Georgian "dreoba"). On this days the Tush celebrate and remember the old gods (Georgian: "Xati") – even if many of the Tush people nowadays call theirselves as orthodoxy.
Tusheti in Winter
Due to the snow in winter times the Tush are totally separated from the rest of Georgia. That is why today there are only some Tush families that are so tough and resistant that they live in this region all year long.
We offer a great service for our guests and provide everything for the ride and the trek (tent, tableware, ect.). Additionally we have two traditional Tush houses where we can sleep for several nights. Our treks last from one to two weeks. We visit little villages and shepherds or just discover the wonderful and unspoiled nature which offers a great variety of landscapes. We explain the history of Georgia and tell legends of this region, eat together with the Tush and just live in nature.
In Spring (March, April) and in November we have our camps in Chiraki
This is a region near the border to Azerbaijan and is mainly situated in the National park. This region is also the place where the shepherds come to spend their winter.
The region offers a variety of landscapes what guaranties an interesting ride.
We ride through plans or canyons and also visit the so called city for birds, which has been built by the martins theirselves. Additionally we cross the semi desert where semi nomads pass the winter.
Our trek also leads through an area with salty water. This offers a soil with a lot of minerals so that many plants and trees have their habitat here.
During the trek you have plenty of possibilities to enjoy great views on the Caucasian Mountains and the green plants – just impressive and unique!
Your luggage will be transported by car.
During our trek through the desert we provide water (enough water for washing hands, face and feed) and mineral water. We cook every day traditional Tush food and specialities. The first day we meet a Tush shepherd and help him producing original Tush products (voluntary).
Audrey Bogini
Caucasus Trekking Company
FRANCE (from November to March)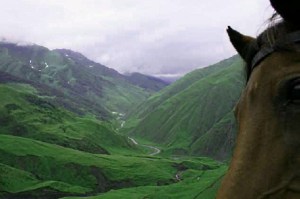 Office  : +33 1 60 47 23 97
Mobil   : +33 6 33 78 04 41
GEORGIA (from April to October)
Mobil 1: +995 95 62 99 27
Mobil 2: +995 99 72 81 62
E-Mail: caucasustrek@msn.com
Surf tip:
—All statements without guarantee—