Try it out: horseback riding with a far look
We all know this situation: We train very hard for a certain training unit but instead of being successful we become dogged and grim.
This can happen in the riding area or outside in nature. You and your horse do not reach you wished goal- and both parties become dissatisfied.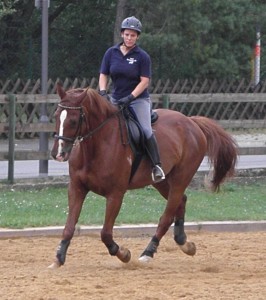 If you observe riders in this situation you can see how they become stubborn and sit in a cramped position. They start to completely concentrate on the horse and have a tunnel view: they only look at the horse and rarely over the neck and the head of the animal.
First of all: this situation is completely normal and once in a while we all have to deal with it. However we can try to learn how to handle it. There is a simple trick the rider can keep in mind that may help to relax the whole situation and especially the cramped body language of the rider. The rider can simply concentrate on his view and try to look on something far away and in front of the horse. You lose the tension in your body and can breathe more easily. You relax your legs and especially your hands. Your horse can feel this relaxation and with the new energy and after a short break you can try to do the training unit again.
This trick indeed sounds really simple and irrelevant – however it is very successful
The rider stops to be dogged and instead loses his interior stress and tension. This is the most important base for a successful and especially effective training.
The far look can even help during a trail ride in nature. Sometimes your horse wants to walk faster than you want him to do. Due to the regular breathing and the relaxed body language of the rider also the animal keeps calm and slows down his speed.
Riding with a far look – a simple trick that you can just try out!
Surf tips:
—All statements without guarantee—