Not available anymore! Travelogue: Apache Spirit Ranch – the perfect place for all western fans
Sorry – This Ranch is not  available anymore!
This year we spent our holidays in Arizona. This state is in the southwest of the USA and offers many really attractive sights. You can visit the two great National Parks Grand Canyon and Saguaro and additionally the really popular city Tombstone. We went there at the beginning of May because the weather in the desert of Arizona is not too hot then. We planned to spend some days on a Vacation Ranch near Tombstone. Easily we found the website of the "Apache Spirit Ranch" which convinced us really quickly so that we decided to go there.
Apache Spirit Ranch Arizona USA
The Apache Spirit Ranch is near the Cowboy city Tombstone in the south of Arizona. It is in the middle of the desert where you can find plenty species of cactuses and Creosote bushes. This place has its own great charm and together with the ever blue sky this is a wonderful place to relax and ride.
If you love the desert this Ranch will definitely not disappoint you.
The perfect place for all western fans
The first impression already clarified: this is a trip into the past, into the time of cowboys. The Ranch is built like an authentic Cowboy City. One can easily imagine how Cowboys and Indians ride on horses and disappear in a dust cloud.
We planned to stay three days on the Ranch but quickly realized that this will not offer enough time.
Day 1:
We were welcomed really cordial so that we felt comfortable from the beginning on. I think it is really important that there is sympathy with between guest and host because anyway you will spend a lot of time together.
At first the hosts showed us our rooms – the Wyatt-Earp-room:
The whole room is really cosy and decorated in a western style. The terrace offers two rocking chairs which are perfect for some time of relaxing. Additionally the room provides a modern coffee machine with several flavours of coffee and tea, milk, sugar and water. There is a flat screen television and wireless. The room offers everything you need (even bathrobe and lipstick) and is really new because the Ranch is just one year old. At any time the Ranch offers cold drinks – and this indeed is a really nice service if you are in the hot desert of Arizona.
After some time of relaxation in our beautiful room our hosts showed us the whole Ranch:
There is a Saloon with a Poker- and Billiard table, a dining room, a pool which invites for great swimming and sunning and of course the horses. Generally the horses are well trained and it makes a lot of fun to ride and work with them. They do not just follow each other in an apathetic way but reacts to the order of the rider. Unfortunately in further holidays in the USA we noticed that many Ranches have horses which are dull and just follow each other in a monotone way.
We were really lucky because the first day was the Mexican evening with great traditional food – great compliment for the cook! – and tequila. We met the other guests (Germans, Swiss and Canadians) who were really friendly so that we had a great evening. All guests felt comfortable on the Ranch and already planned the next trip there. After the great meal there was time for Poker  (with Jack Wheeler) and Billiard.
Besides riding the Ranch offers many other activities
The Western Programm
provides roping and horseshoe throwing, billiard, dart, poker, open air cinema, live country music, campfire, western shows with international artists, can-can dance, pool party, coach riding.
Trips to Tombstone, other Saloons, Gunfight, Shopping, Old Tucson Film Studios, Tucson Desert Museum, Chiricahua National Monument (hiking), Tracking, Nogales (Mexico), Bisbee Old Mining Town, Kartchner Caverns.
Realize the possibility to talk to original Apaches! They tell you about the history, origin, lifestyle, culture, religion, education, language, medicine and Chiricahua.
Apache Spirit: Meditation and singing, Indian dance, Apache Camp, campfire with charm.
Indian Activities like bow and arrow shooting; workshops in making smoke signals, surviving in wild nature and traditional Indian cooking; horse and body painting.
Day 2:
After a great breakfast with eggs, fruits and pancakes we started the horseback riding trip. My horse was called Chewey and I directly fall in love with him.
Riding for beginners and advanced riders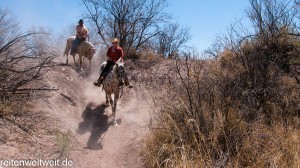 We rode along the San Pedro River for more than two hours.
The nature was wonderful and unexpected green. Our guides Brad and David told us interesting details about the region and were really patient with all our questions.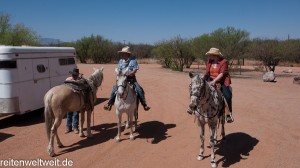 After two hours we were brought back with a trailer. The drive took about half an hour so that were just back in time for lunch on the Ranch. After a tasty lunch we had the possibility to continue riding. We rode one hour through the impressive desert- a great experience!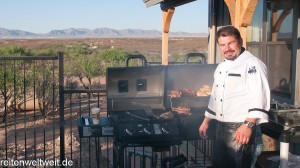 In the evening there was a pool party with BBQ and music.
We all had a lot of fun and it was a wonderful evening! There were steaks and sausages but of course there was a great variety of vegetables for the vegetarians. The dessert was a cheese cake what made the evening just perfect.
Day 3: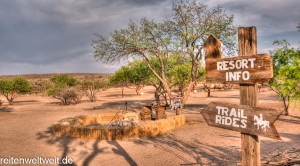 After breakfast we made our third and last ride. We started at the Ranch and this time I had another horse. Her name was Rose (Quarter Horse) who also was a really resilient and well trained horse so that the ride was great fun. She had many similarities with my own horse in Germany and we were a great team.
After the ride we had the possibility to get a riding lesson from Brad. He is really patient and relaxed with his students so that there is a good and productive atmosphere for learning.
At 1:30 p.m. we had to leave the Ranch. We were a bit sad because it really was a great time on the Ranch and a perfect holiday!
Thanks a lot to the Apache Spirit Team!
Tipp: "

The Wild West Wedding

Packages"
only costs 799 $ per person!
You have the great possibility to marry in front of a wild western scenery!
Enjoy the best day of your life and fulfil your dreams: feel like the Happy End of an old western film!
Internet: www.apachespiritranch.com
Tombstone/Arizona. Imagine the year 1881:
Close your eyes, picture yourself a majestic horse, the sun setting slowly in the west as you ride towards the campfire. Your mouth waters thinking about the juicy steak waiting for you at the end of your ride. As you look out across the desert, across endless miles of Apache territory, you hear a lone coyote howling at the moon. You're just 3 short miles from the Apache Spirit Ranch where all the luxuries of an exclusive resort meet the rugged adventure of the old west. Tomorrow, Wyatt Earp, his brothers and Doc Holliday face down the Clanton gang. You crawl into a comfortable bed in the Grand Hotel, the City Jail or the Post Office, and as your eyes grow heavy from a long day, a smile crosses your face. Tomorrow will be a big day.
—All statements without guarantee—