SOLD! For sale: Graham Dunden Ranch in British Columbia, Canada!
This Ranch is sold!
Live your dream!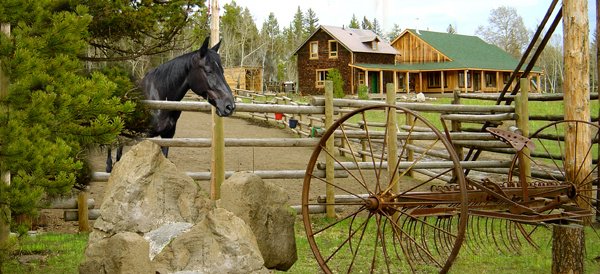 Description:
Location:
8485 Graham Dunden Road,
70 Mile House, BC, Canada
Property: 160 Acres = 647.360 m²
Building:
Ranch House: Construction year 2003/2004
Living and usable area: 345 m²
Porch: 112 m²
Guest House: Construction year 1927, gutted, renovated in (Heritage) 2004 and 2006
3 guest rooms, 2 bathrooms
Laundry
Breakfast room / lounge
Living and usable area: 95 m²
Cabin: 4Room-Cabin with 22.4 m², incl.
kitchen share.
Suitable for winter/heated
Permission for the construction of two more
Cabins is available.
Stable: Stable with 6 boxes
Storage room for hay and oats
Work shop
Other buildings:
Large storage place for hay
Wood storage
Tractor shelter (carport) / storage for sawdust

Pigpen for ca. 10-15 pigs.
Small picture gallery of a ride in the area:
—All statements without guarantee—