Friesian Horse Breed – Black Pearls on four Legs
When Friesian horses enter the arena or riding ring the ground trembles and a murmur runs through the crowd. Not only horse lovers are impressed by these noble black horses with their flowing manes, tails and long feathers.
These horses combine beauty, elegance and power, they are graciously spirited and gentle.
The Friesian is one of the oldest horse breeds in Europe
Friesian horses are an "old breed"
As far back as in the 16th and 17th century this breed developed when the horses of the Netherlands were infused with Spanish blood. Since 1878 the development of this breed has been documented in the 'Friesch Paarden Stambok". All sires registered to this day go back to stalllion Nemo 51, who was born in 1885 and registered in the first studbook.
Member of the Baroque breed of horses.
Only black horses without markings are permitted in this breed. The Friesian stands between 15.5 and 16 hands. It is a member of the so-call Baroque horse breeds. It refers to heavy and compact horses with strong necks as this was the type of horse that was preferred in the Baroque era. This breed is especially well suited for the haute ecole discipline of classical dressage.
The Friesian has a high-set, arched neck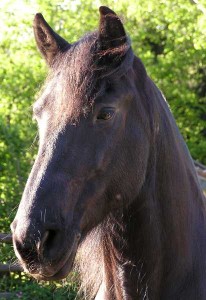 Friesian horse has a high-set, arched neck, a straight head, large eyes, and small ears. Its trademark is the thick mane and tail and feathered hair on the lower legs. The latter always needs to be be kept neat and tidy. Otherwise on wet and muddy ground the horse could easily get afflicted with malanders.
Important character traits are calmness, gentleness, sensibility, intelligence, and willingness to work.
Their high-stepping trot is especially noticeable in front of a carriage.
These black horses are becoming more and more popular, especially with hobby riders.This is not surprising, with a Friesian you definitely have a reliable, brave, and rideable horse under the saddle.
Friesians are a very versatile horse breed.
The Friesians are willing learners and can definitely be "molded" further. With a solid basic training a Friesian can definitely ride at the highest dressage levels (S-Level in Germany).
They are popular in circus riding or classical dressage.These horses also manage small jumps.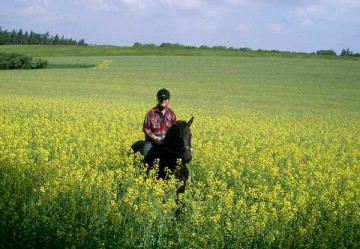 They show incredible endurance specially on level ground. After all, they originally come  from the flat Netherlands.
It's different on hilly terrain where they simply don't have this type of stamina. The reason might be the small lung volume that is found in this breed.
It has about 1/3 less than other horses of comparable weight. Regular training increases endurance, even in the hills.
Friesian horses are slow to mature
To ride Friesians correctly and keep them in good health you have to take your time with them. Friesians are horses that mature late and shouldn't be broken in too early. Because of their high-set neck, riders tend to ask them to collect at too early a stage. After all, these horses are able to carry their heads so beautifully. Friesians are definitely able to advance through all the levels of the dressage training scale.
Specially important in these horses is the correct forward-downward riding motion. The neck should extend forward-downward and the nose stretch out in front. Only in this manner can the back arch upward and strengthen the muscles that carry the rider.
It is not easy to teach this important riding motion as these horses have a high-set neck and also can flex quickly without being noticed to do so. If a Friesian is ridden correctly, its gaits are smooth and the rider can sit very comfortably on its wide back.
The Friesian as Western horse
It can be great fun to ride the Friesian with a western saddle, provided you have the appropriate saddle for its rather short  back.
Due to its body built and high neck the Friesian horse is not terribly well suited for western competition.
However, the recreational rider will find the western saddle a comfortable alternative for cross country rides. And on trail rides too, the Friesians are able and bold horses.
Surf-Tips
—All statements without guarantee—